July 13th, 2017
Who is teeth whitening for?
There are several types of patients that are candidates for whitening. If you have a lot of staining habits such as drinking coffee, tea, wine, smoking (it's great for someone who's just quit smoking and would like to treat themselves), or someone who has tetracycline staining (which comes from certain medications) you could be considered a candidate for whitening. If teeth are stained yellow, brown, or blue-gray (from tetracycline) then teeth whitening could definitely be for you.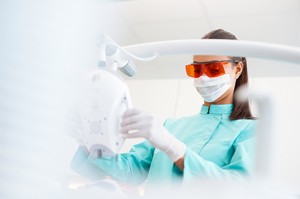 We do two different types of whitening at Nathanson Dental: both take home trays and in office whitening with Zoom! by Phillips. Take home trays are created here in our office and then whitening gel is given to the patient for strictly at home use. We also offer in-office whitening, which takes about an hour and twenty minutes to an hour and half, and is used in conjunction with the take home trays.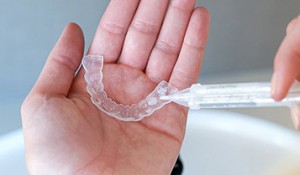 We recommend doing both the take home and the in-office whitening for maximum results. In office Zoom! Whitening offers immediate gratification for anyone who would like a bright smile for an event or special occasion while the at home whitening maintains the brightness that was achieved, and sometimes even improves the whitening that is done in our office.
What about the stuff I buy in the store?
Any over the counter whitening product is not endorsed by the ADA (the American Dental Association). The dangers, in general, can range from tooth sensitivity to gum irritation and/or burns from the gel to use of potential exposure to cancer causing ingredients. Charcoal, for example, is well known to be carcinogenic despite the recent trend of using it in toothpaste for tooth whitening effects. Our staff at Nathanson Dental would not recommend using a charcoal based product for tooth whitening.
So how does it work?
When you come in we evaluate them by taking the initial tooth shade so we can see the before and after results, we talk about your whitening goals (how white you want teeth to be afterwards), evaluate your smile to make sure you're a good candidate for whitening – restorations in the front of the mouth, such as crowns, don't whiten so those patients would not be good candidates for whitening. If it's determined you are a good candidate we'd then get their custom tray impressions, whether you are doing in-office or take home whitening. Afterward, the we will send you home with a high fluoride toothpaste to use one to two weeks prior to your in-office whitening appointment. The toothpaste helps to cut down on the sensitivity that some patients experience after having their teeth whitening. Once the custom trays are made and the you have been using the fluoride toothpaste, we will have you come back in the office for your service. We begin the service by placing barriers over the soft tissue to protect from discoloration or irritation. Then we'll place gel on the teeth and shine the Zoom lamp on the gel for fifteen minutes and we'll do that for three sessions. After the three sessions the we will do a fluoride treatment for thirty minutes to help with any sensitivity you may be experiencing. The hygienist will show you how to use the take home trays with the at home whitening gel and that's it!
Why Nathanson Dental?
We take precautionary measures when it comes to teeth whitening including toothpaste to reduce sensitivity and barriers to protect fragile gum and lip tissue from burns or irritation. We follow a specific whitening protocol and we do so with our patients' comfort in mind. Also, we offer a very special program for our whitening patients called Forever White. Every patient that gets in-office whitening is automatically enrolled in the program that gives them at home whitening gels at every hygiene visit for no additional cost.
Ready to schedule?
Click here.