May 25th, 2017
May 25, 2017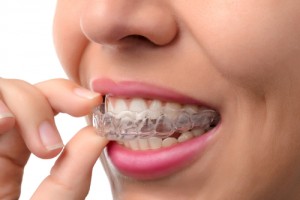 Invisalign is a type of orthodontics that people get when they want to straighten their teeth. It uses a series of aligners instead of traditional brackets and wires that most people are used to.
There a quite a few benefits of getting Invisalign over traditional braces. First, purely for cosmetic reasons - you don't have the metal brackets or the wires. There are clear aligners with small "bumps" on some of your teeth, which are barely noticeable unless someone is looking for them. Maintaining your dental hygiene is another big benefit because it's much easier to keep your teeth clean while you're at home and you don't have to worry about what you and and can't eat because all you do is take out your aligners. As long as you clean afterwords you're good to go.
As you can imagine, straightening your teeth can be quite a process. While the actual amount of time varies patient to patient, Invisalign Express can take as short as 6-8 months while comprehensive cases can take up to 2 years.
A malocclusion is when the bite does not come together properly. Invisalign can correct all malocclusions that traditional orthodontics can. It makes sure your bite comes together properly making sure you can eat and clean your teeth and gums the way that you should to maintain proper oral hygiene.
If you're interested in Invisalign the first step would be to come in for a consultation. The next step would be to take impressions and photographs and send them to Invisalign. From there Invisalign is great with being able to take impressions and photos we send them and create a treatment plan that will show you where you're starting and where you can end up. If the end results look favorable then we would proceed with the treatment.
At first, you would visit our office approximately every 2 weeks for the first couple aligners – those will switch every two weeks. Once you get used to the aligners and are able to take them in and out without any problem, then we can extend the office visits out to about a month or two.
To make sure Invisalign is successful it's important to follow your treatment plan that was set out, making sure that you're coming in for your appointments, and are wearing your aligners every day (except when eating or drinking). Another key factor is making sure to come in for all your regular hygiene appointments throughout your treatment.
At Nathanson Dental we are not just there for Invisalign, we are also a full service dental office, so for any dental problems that may arise you can still give us a call we can get you in, figure out whats going on, and get you treated so that it doesn't impact the progress of getting those perfectly straight teeth you've always wanted!